55+ Luxury Retirement Community in Downtown Lancaster
Many people may think that living in the home of their dreams is an achievement that they should pursue while they are young. But independent living doesn't mean that you must sacrifice a trendy environment and forgo a vibrant lifestyle. On the contrary, 55+ living is an option that attracts many older adults who desire to age in place and maintain their active, healthy, and social lifestyles.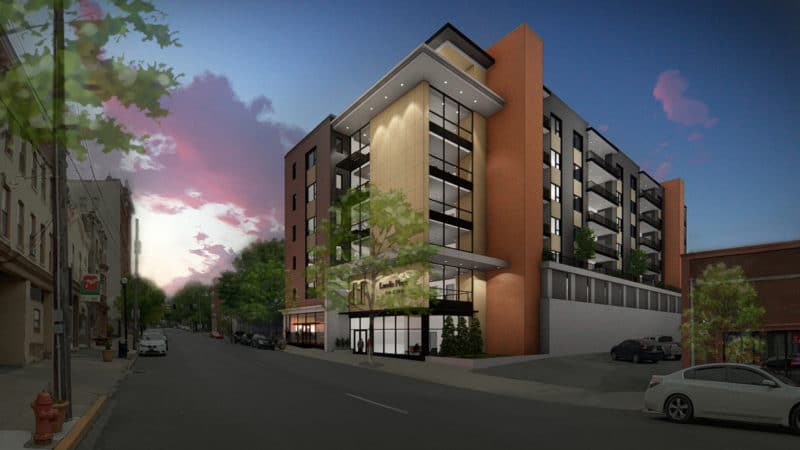 Benefits of Retiring in Downtown Lancaster
Downtown living for those age 55+ can include multiple different amenities. A unique feature of Landis Place on King is the support of an on-site care navigator to help with things like accessing care and understanding the complexities of the healthcare system.
Key elements of life at Landis Place on King are maintaining social well-being, physical health and wellness, and facilitating lifelong learning. If necessary, residents can also find peace of mind through the services of Landis at Home, which can provide help in the home in a variety of ways – from meal prep, light cleaning, running errands, and transportation assistance.
Community life also flourishes in luxury independent living, and Landis Place on King is no exception. There are lounges for community gatherings and a top floor outdoor terrace, perfect for social events or parties, with a beautiful view of the cityscape. Additionally, there is an exercise room and a flex space for residents, retailers, vendors, and food service providers.
All apartments have balconies or patios so that residents can enjoy the fresh air with their family or friends in the privacy of their own home if they do not wish to venture up to the top floor terrace.
The complex is conveniently located near key Lancaster City attractions, such as the Ware Center, the Fulton Theatre, and Central Market.
Vibrant, downtown living is the perfect option for those in the 55+ community who aren't ready to slow down and who want to continue building community and flourishing in place with all of the necessary amenities nearby.
Contact Landis Place on King today to inquire about apartment availability and discover how you can begin planning your move to luxury age 55+ living now!
Learn More and Request a Tour